Floris van Bommel men's blue leather lace shoe finished with a black 3D print /

€ 229,90

€ 114,95
incl. VAT
---
Article n° : 14237/00
Width: G½
Last: 129
---
Shipping to 22 countries

Free shipping from orders over € 500,- (excluding USA and Andorra)
Safe payment
Floris about this shoe:

"Stealth airplanes and boats are designed to avoid radar detection. This shoe is made of stealth material that has the same angular edges you can also find on those unusual aircrafts. It's just that… I doubt that you can escape the radar with these shoes. You may be able to stay under the military radar, but you will definitely not go unnoticed in a bar or at work. The material is actually 3D. The corners and edges aren't flat but actually protrude (only a little bit of course). So with this shoe we've hit the mark (an invisible hit, that is, of course! Stealth… err… oh, never mind…)."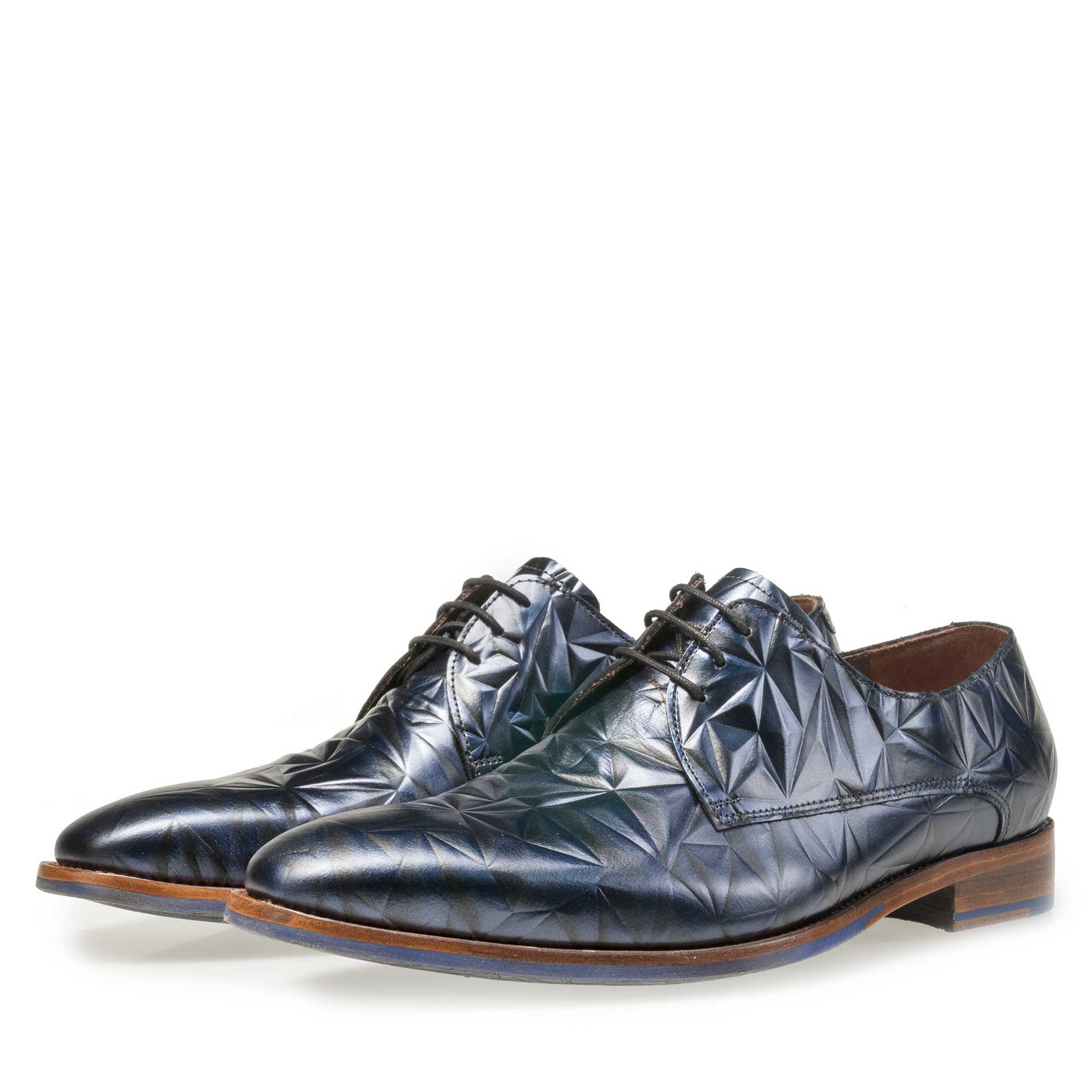 Product information
This blue derby is made of Italian calf's leather finished with a black print that gives the shoe a mother-of-pearl 3D effect. The lace shoe's toe cap has a slightly rounded carré shape and an overall slim and casual look. The blue rubber outsole is adorned with an all-over pattern in the shape of small shoes and the sole's blue colour is also visible along the sides of the shoe. The part of the outsole right after the heel which does not come into direct contact with the ground is finished with a piece of naturally tanned sole leather. The cobalt blue heel is partly made of slip-resistant rubber and partly made of leather. The round, black laces are made of waxed cotton. The lining is made of calf's leather.
Matching Accessories
Dark blue leather belt finished with a black 3D effect (article number 75153/07)
There is a matching belt available for this shoe. The belt is in the same colour and made from the same material as the shoes. Details such as grain, texture and finishing methods are identical to those of the shoes. The belt can be manually adjusted to the desired size.